Just the right amount of everything.
Love at first sight! It just got a lot harder to make the wrong decision how to travel around Iceland.
Follow the good weather rather than a pre booked hotel schedule. Stay a day longer at a place that you want to see and love. Drink a coffee at a site and glaze out the window without the hassle of having to search for the next accommodation and the check in policy. Unpack your bag but once during the whole trip and even leave the luggage at our rental station. Buy food at the local super markets and save money. Dine out if you feel like it.
It's yours for the taking. Visit Iceland, the land of Vikings and get inspired by nature. Take a swim each day and relax your muscles in the hot pot that you find in every swimming pool. After the trip you will have memories of an adventure and the relaxed body to go back to daily business.
Travel Tips
We have put together a few tips to make your planning easier. Our oldest brand dates back to 1987, hence the data is quite reliable. The Ring Road might seem short but if all the hot spots are visited the average KM are 2300 Km. The recommended travel time for the Ring Road is min. 12 days. If you include the Westfjords you must add at least 7 days.
Floor plan
We do not guarantee a specific model. The layout below is only an example – Camper Iceland does only guarantee the number of seats and sleeping places not a specific layout for each vehicle category.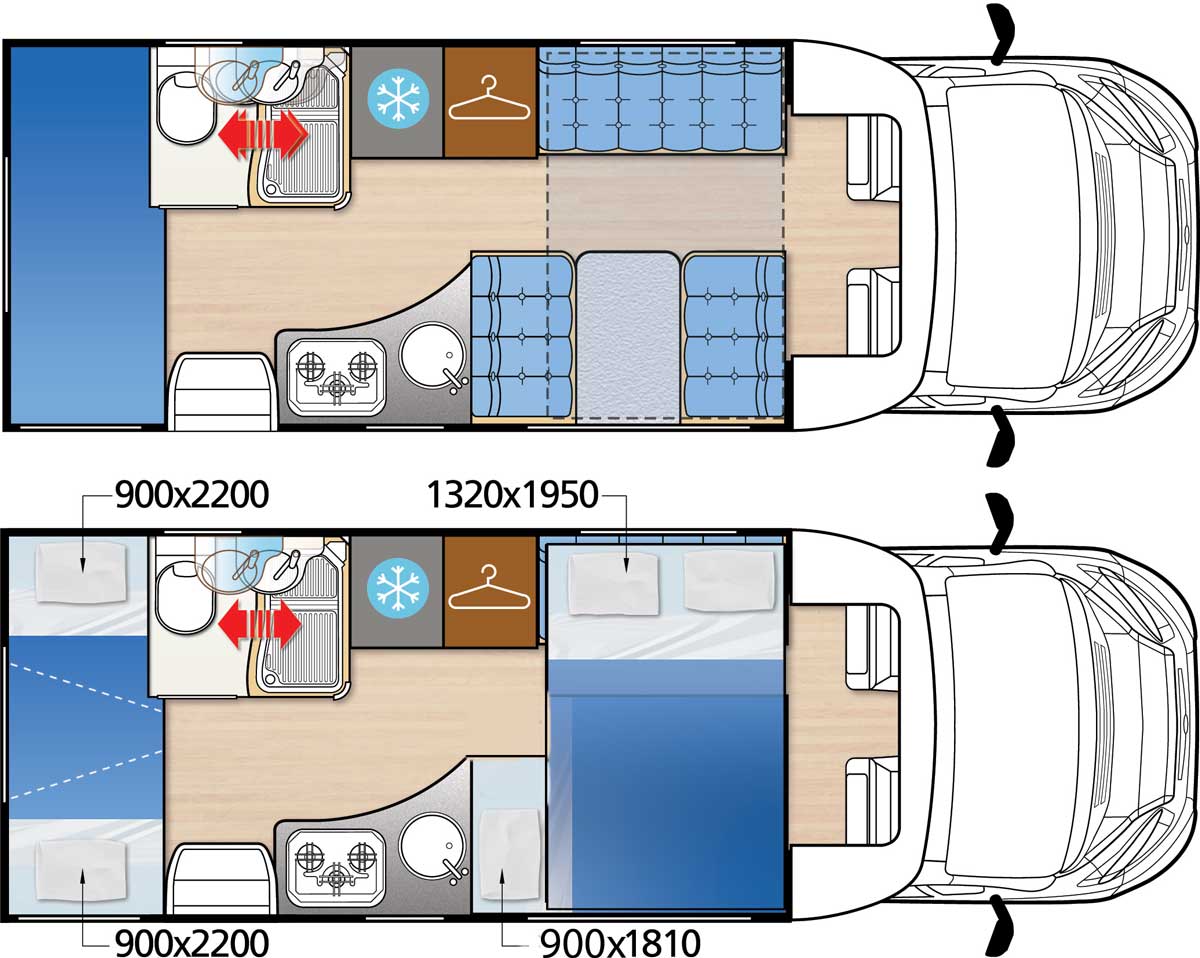 Vehicle Details
Here are some important facts about the vehicle
Low profile and coach built models
Seats Driver: 1
Additional Seats Adult or Child: 4
Total Seats: 5
Total Sleep capacity in Vehicle: 5
Bed 1 Dimensions (Capacity, W;L): 2 PAX Ca. 132 x 195cm
Bed 2 Dimensions (Capacity, W;L): 1 PAX Ca. 90 x 181cm
Bed 3 Dimensions (Capacity, W;L): 1 PAX Ca. 90 x 220cm
Bed 4 Dimensions (Capacity, W;L): 1 PAX Ca. 90 x 220cm
Minimum driver age: 20
Minimum years of driving: 1
Maximum drivers age: 75
EU Drivers license: B (Normal Car)
Vehicle Year: 2015-2020
Power Train Front Wheel Drive
4×4: NO
4×4: NO
Engine Size L: 2.3
Transmission type: Manual
Engine Type (Petrol or Diesel): Diesel
Fuel consumption (Liters per 100KM): 9-14
Exterior vehicle dimensions (L) (W) (H): 6990x2350x2850
Interior height in meters: 2.13
Heating in the drivers cab: YES
Heating in the main cab: YES
Air conditioning in the drivers cab: NO
Air conditioning in the main cab: NO
Sink: YES
Built in Fridge: YES
Optional Cooler/Fridge: YES
Cook top (Type and number of burners) Stove, 3 Burners
Hot Water: YES
Cold Water: YES
Fresh water tank: 120L
Grey (sink) water tank: 120L
Black (toilet) water tank: Cassette
Toilette Installed: YES
Shower: YES
Radio Type: CD, RADIO, AUX, MP3
Cruise control: NO
ABS / Power brakes: YES
Internal access to Camper: YES
Bike rack: NO
Awning: NO
Fly screens: YES
Power Supply (220V), dock on camp site: YES
Power Supply 12V while driving: YES
Inverter from 12V to 220V while driving: Optional
12V Battery Vehicle: YES
12V additional Battery: YES
Fuel tank capacity: 7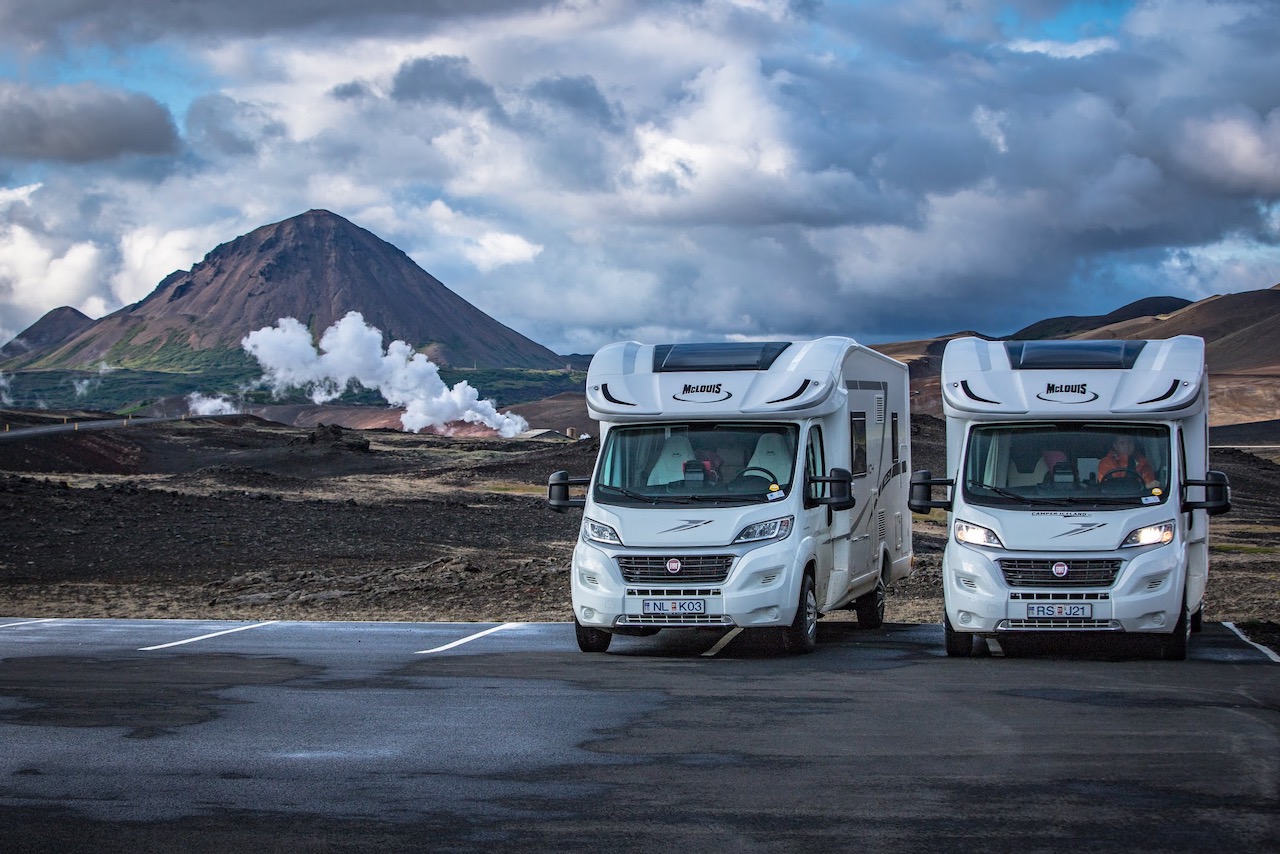 Our Tips & Tricks For Traveling
Travelling with a Motor Home saves you a lot of money because you can shop in the super market instead of the restaurant.
Book in advance to get the early bird discount.
Book inside our opening hours (10:00 – 16:00) and save the after hour fee.
We assist you in finding an accommodation if needed.
Check our Flight rates to compare the rates.
Book all extras in advance to save time on spot.
After booking with us we provide more tips for preparing for Iceland and all the way until returning home.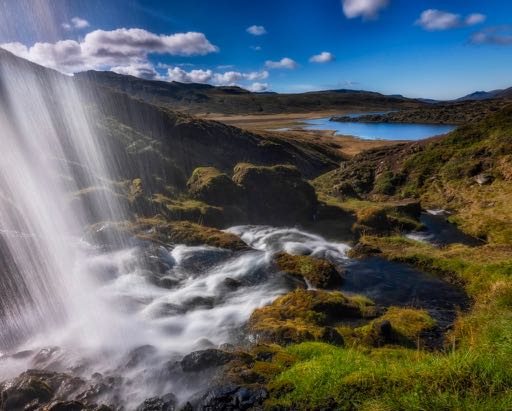 1.

Book and receive Information

As soon as you have booked your vehicle we send you detailed information on how to prepare for the trip and how to get to our rental station. It is important for us that you know where to go after you land in Iceland.
2.

Family business

our Sales office and our rental station is operated by family members. In addition, we have handpicked delightful members to our team.
3.

Customer Satisfaction

the most precious time in the year are holidays and vacations. We want you to enjoy our country and our product and are glad to assist.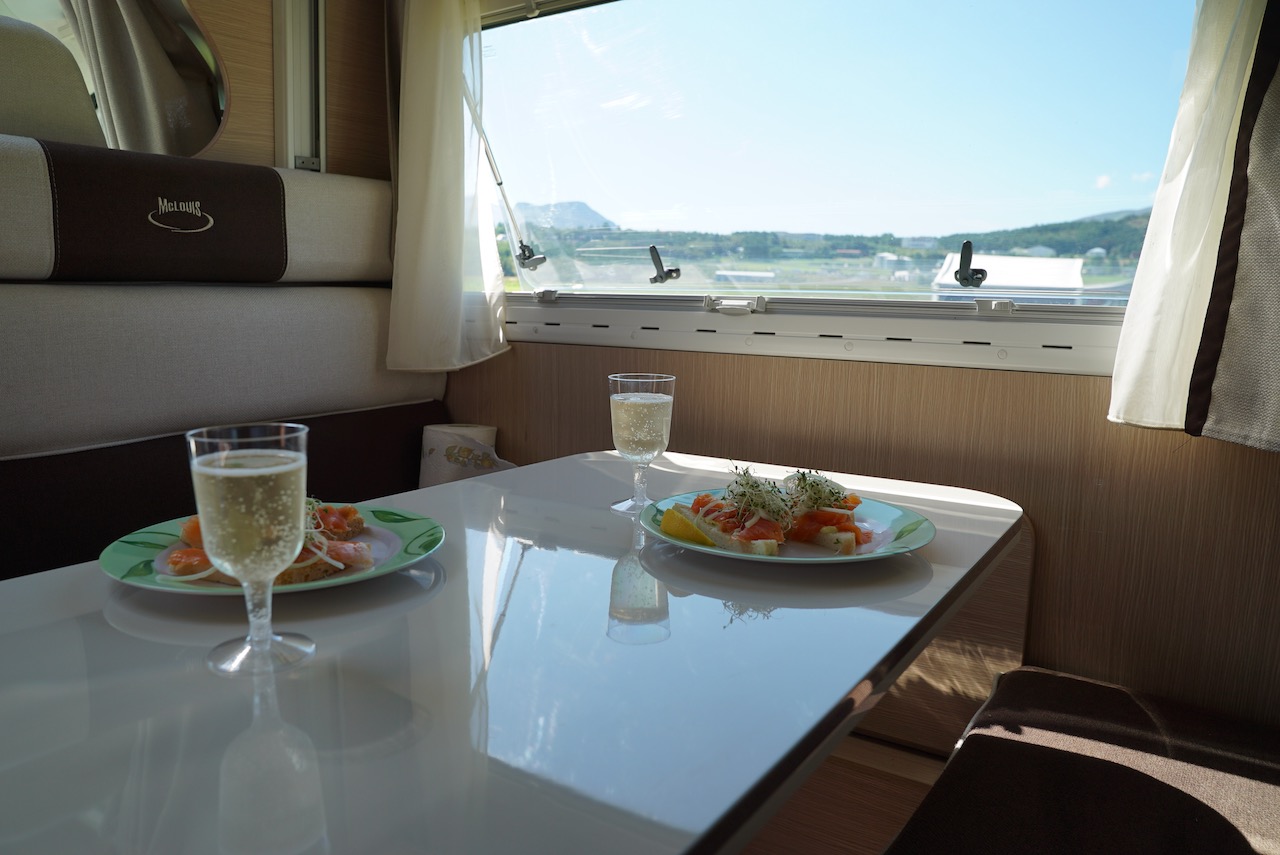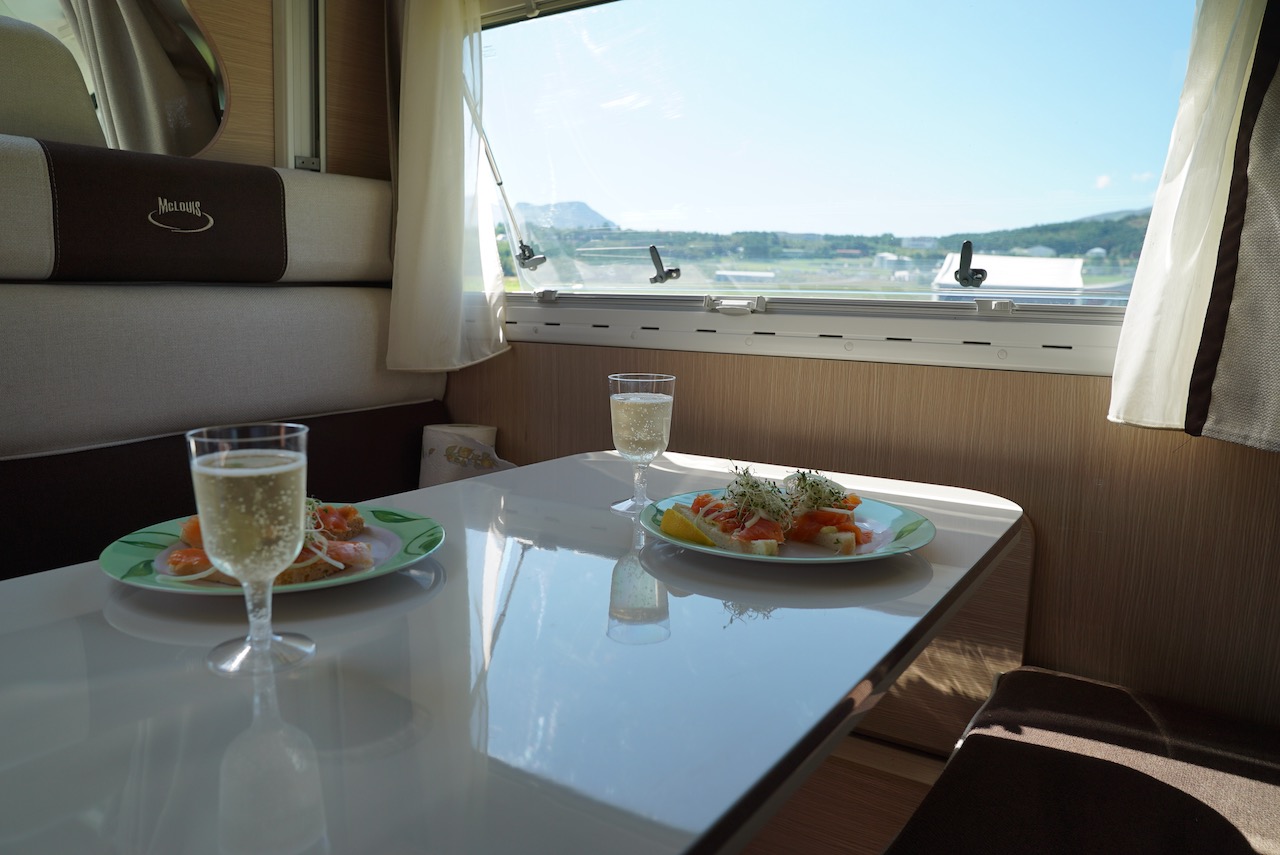 Vehicle Gallery
Have a look at this wonderful vehicle and picture yourself travelling around iceland in it.
Official dealer since 2009
We are the official McLouis, Elnagh and Mobilvetta dealer for Iceland. For over a decade we have worked close with the production company to provide suitable vehicles for the Icelandic conditions. All pictures shown are for illustration purpose only. Actual product may vary due to several reasons such as production changes, short term adding of vehicles, renewal of the fleet etc.